About The Bad Dog Logo
Our name and our logo's design are based on many factors that are common among band members. The most prominent of which is the dog. The breed is a Newfoundland. Known for their giant size and enormous physical strength, water rescue abilities (they have webbed feet) and a benevolent disposition (very sweet with a gentle demeanor and a strong sense of loyalty).
---
Meet Holly Bear: a "Bad Dog" Newfoundland resting up for a celebration of Halloween festivities.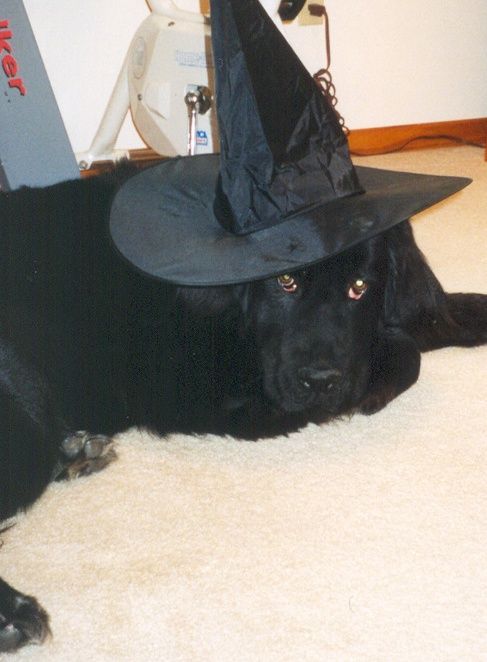 ---
Ron has 4 purebred "Newfies" and one mixed breed, a Flat Coated Retriever which is part "Newfie." He also has a yellow lab and a dachshund-beagle mixed breed. Together they often spend time "rocking and rolling" at Bad Dog rehearsals.

Don Pearl, the Bad Dog drummer, is a veterinarian, often caring for and treating our dogs and cats.

Ron's wife Debbie has her own Pet Sitting business, and most of the band members have dogs.

Equally prominent in the logo is the motorcycle which almost all of the members own and enjoy riding. It embodies the band's sense of adventure, being in the great wide open and overall camaraderie (being part of the "Dog" pack).
---
 Meet Heidi Bear, our "Dark Knight", this Bat Girl is also ready to go out for a night of fun on Halloween.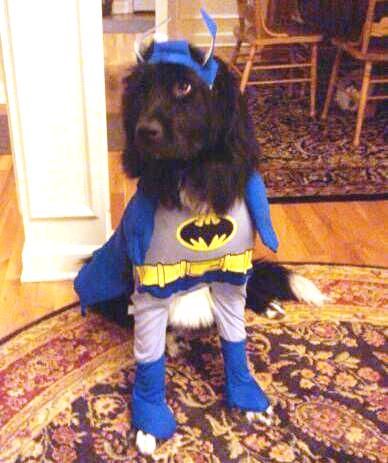 ---
And finally, the Bad Dog name implies, an attitude of mischievousness. Not being malicious but enjoying the
occasional prank or just having fun. In still another respect it implies an attitude, if not confidence, in what we do.

All of these qualities together are what makes Bad Dog unique, both in their sound and presentation. We hope
you can experience for yourself what Bad Dog is all about.

Our logo was designed by a Brad Miedema who is both an exceptional and accomplished artist as well as a
Senior Art Director at a well known advertising agency.

Here are just a few of his many awards: 
Danada Nature Art Show - People's Choice Award, 2010
Danada Nature Art Show - 1st Place Award, 2009
Danada Nature Art Show - People's Choice Award, 2007
Danada Nature Art Show - Honorable Mention Award, 2006
American Academy of Art Show - 2nd Place Award, 1999
American Academy of Art Show - 1st Place Award, 1999
American Academy of Art Scholarship Award, 1998
Elmhurst Art Museum Scholarship Award, 1998

For more information about Brad and his work you can follow the link below to our
Acknowledgements and Favorite Links page for a link to his websites.





For Bad Dog Band Bookings and Information call (615) 481-7386
or send an email to info@BadDogBand.com
or just go to the contact us web page and fill in the form and submit.